Oceanographic Instrumentation Frames
For Subsurface Oceanographic Moorings
Mooring Systems, Inc. manufactures a wide range of frames for mounting and protecting oceanographic instrumentation.
Our extensive in-house steel fabrication capabilities and mooring engineering expertise, results in reliable frames built to meet the requirements of any underwater installation.
These rugged frames are constructed from type 316 stainless steel or titanium round bar with upper and lower bails to accept shackles for attachment to the mooring line.
Isolation bushings and anodes are used to provide additional protection against corrosion.
A simple clamp set allows easy assembly of the main pressure case and remote battery housings.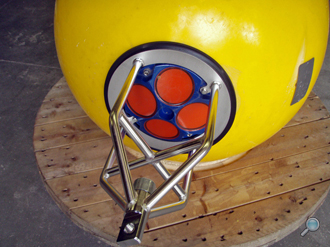 Frames are available with syntactic buoys to suit different mooring applications and dynamics.
Options:
In-Line Mooring Frame
ADCP Buoy Frame
Vessel Casting Frame
Features:
High Strength, 5,000, & 10,000 lbs. (2,273 kg & 4,545 kg)
Type 316 Stainless Steel Construction
Corrosion Resistant with Isolation Bushings & Anodes
Electro-Polished Frames
Unobstructed Transducer Beam (Doppler Profilers)
Integral Pressure Case Clamping Bands
Standard Instrument Designs
Custom Frames Unique Instruments & Applications
Integral Syntactic Foam Buoyancy Packages
If you have any questions, feel free to contact us.